The Esther Benjamins Trust rescues Nepalese children who have been trafficked or displaced into India – including many who have been sold into Indian circuses and forced to work as performers.
The Trust offers refuge and rehabilitation to rescued children and young people who cannot be returned to their families for fear of being re-trafficked. Its refuges offer access to a full education and a range of vocational training opportunities.
The Trust was established by Philip Holmes in honor of his wife Esther Benjamin who took her life in 1999 citing childlessness in a single-line suicide note explaining her reasons to her husband.
Nepal was an obvious area of focus for the Trust, a country that had always been close to Esther and Philip's hearts while the couple lived and worked alongside many Gurkha families during Philip's successful career as a Dental Officer in the British Army.
For some time, Philip Homes served under one of our members, Rotarian David Smith, who also served as a Dental Officer in the British Army.
Click on the picture below to see how the Rotary Club of Limassol-Berengaria Cosmopolitan helped to fund the work of the trust.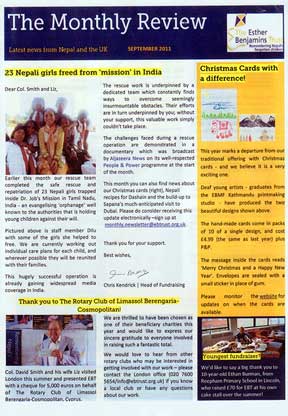 The film below shows a raid on a circus in India in 2010 that rescued 28 trafficked and displaced Nepali children.
For more information visit the website of the Esther Benjamins Trust