Welcome to the Rotary Club of Nicosia-Lefkothea
The first 100% RGHF Club in the World
with 72 members joining in 2009
We still continue having the first place internationally
and, together with us,

whole Cyprus Rotary 
See the whole story in
(Under the link:

100% RGHF Clubs

)
and also in the Club's section 

"Bulletins"
(How RGHF came to Cyprus)

We would be honoured if you devoted a few minutes to open our web pages and be informed about our activities 
(PP Christodoulos Achilleoudis, Internet Communication Officer)

LEFKOTHEA was one of the old names of Nicosia. The initial name of Nicosia was Ledra, but after the 12th century most authors referred to Lefkosia or Lefkothea, naming of the Club
According to Greek mythology Lefkothea was a Greek Goddess who initially was mortal, was called Ino and was the wife of Athamas, King of Thebes. Ino tried to commit suicide by throwing herself into the sea. But Zeus, who had not forgotten that it was she who had brought up his son, Dionysus, transformed her into a sea goddess who, under the name Lefkothea, often appeared to the shipwrecked sailors struggling against the waves and saved them.
The following expressive picture (from an engraving by Hans Meyer after the painting of Fr. Preller) shows Lefkothea pointing to Ulysses, who is in danger of sinking, the direction of the island of Phaeacians, where the wonderings of the illustrious King of Ithaca came to an end.
Banner of the Club
The banner carries the Emblem of the Rotary International supported by two olive branches symbolizing peace and understanding, which are the goals of Rotary.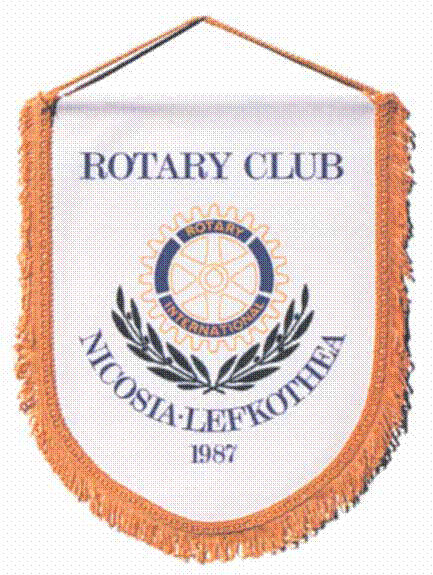 The banner has a width of 21 cm and a height of 23.5 cm
Club Meetings
The Rotary Club of Nicosia-Lefkothea meets every Tuesday evening, 19.00-20.30, at the Hilton Hotel, Nicosia and in several occasions, in places announced each time.