The Rotary Club of Nicosia was established in 1938. It soon grew to become one of the most dynamic among the Rotary Clubs in Cyprus with a multinational membership from a variety of professions. The meetings and club business are conducted in English.
We meet for lunch, on Thursdays at 13.00h.
For the period of the Covid  Pandemic the meeting venue is not stable. We advise visitors to contact the club to verify meeting arrangements. We have interesting speakers and enjoyable fellowship meetings.
For more information, please contact our President, Charalambos Panayiotou at c.panayiotou@atlantis-consulting.eu , tel. +357 99650050.
Rotarian visitors, Rotaractors and Rotarian friends are always welcome.

Friends for Oscars Theater, January – February 2021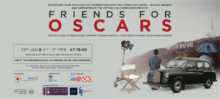 The Friends for Oscars Theater will be staged in January and February at Satiriko Theater in Nicosia.
Net proceeds will benefit the CYPRUS RED CROSS.
Stay tuned for online Ticket Purchase notices.
District 2452 8th Conference, March 11-14.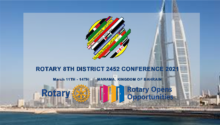 Rotary Santa Day of the Rotary Club of Nicosia
and the Rotaract Clubs of Nicosia and Nicosia Lefkothea.
The project delivere Christmas Packages to the Nicosia Versatile Centre (Polidynamo Kentro Lefkosias) to be distributed to low income families.
The project enjoyed great response from rotary members and sponsors and being involved is this project was a great way to contribute to our community. We are proud that we have achieved fundraising in excess of 4.000 euro which enabled us to prepare Christmas packages with Christmas meal item, vouchers and toys for the children of a total of 42 families.
The packages were delivered in a small ceremony which took place at the Centre's offices at the presence of Mayor of Nicosia Mr Constantinos Yiorkadjis, the president of RC Nicosia Mr Charalambos Panayiotou, the president of the Rotaract club of Nicosia Lefkothea Constantinos Christodoulides and the RC Community Service Officer Ms Nada Panayiotou.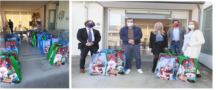 A big thank you goes to the project sponsors Laiko-Cosmos Trading Ltd, CYPRA Ltd, PAS Toys Ltd, Papantoniou Supermarkets, Mitsides group and Fiduciana Trust (Cyprus) Ltd, Makkas winery and the Rotary club of Aspelia for their generous contributions. Thank you and congratulations must also be extended to the many Rotarians and Rotaractors who offered much of their time to realise this project, and especially to the Rotaractos for their successful fundraising campaign.

The Rotary Santa Day was one of many projects undertaken by Rotary Clubs in Cyprus, aiming to support various vulnerable groups during the Christmas season. Rotary Cyprus comprises of a total of twenty clubs.
---