ON Sunday 6th February the Rotary Club of Limassol-Berengaria Cosmopolitan held its third Environmental Competition and Fair at the prestigious Venue Centre of the Columbia Plaza in Limassol's old town.
The well attended Fair attracted plenty of media and public interest as the ambitious and environmentally aware school groups vied for the awards and certificates that were presented by judges, Commissioner for the Environment, Charalambos Theopemptou and Socrates Metaxas, Manager of the Limassol Water Board.
Other judges included Limassol's Mayor Andreas Christou, Rotarian dignitaries and several of the project sponsors, including Bambos Charalambous, Manager of the Columbia Plaza.
Additionally, the Fair included displays and demonstrations by a number of different environmental groups and other eco-friendly organisations. These included Future B Green Energy, Cartridge World, who offer recyclable printer cartridges, Green Dot (Cyprus) and the Water Board of Limassol. The Cyprus University of Technology (CUT) International Students Club, represented by Pauley Tedoff (a Rotary Ambassadorial Scholar from the USA), gave a presentation to the audience highlighting practical ways of 'living sustainably.'
As the events major sponsor, Columbia Plaza hosted the Environmental Fair in their Venue Centre Exhibition room and provided welcome refreshments for the competitors following the prize giving ceremony.
Supporting sponsors of the event included the Limassol Water Board, Coca Cola, Sprite, Lanitis, the Electricity Authority of Cyprus, Gaia Solutions, the Phileleftheros and Cyprus Weekly newspapers.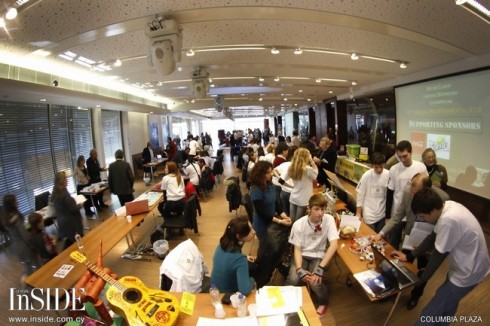 Links
Press Announcement & Advertisements