Welcome to Rotary Kyrenia Cosmopolitan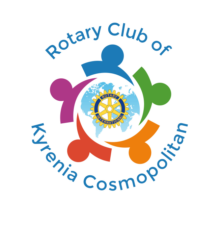 The Rotary Club of Kyrenia Cosmopolitan is a brand new English speaking and multicultural Club in Kyrenia, Cyprus. We received our Charter on January 3rd 2017 and currently have 28 active members (14 men & 14 women) by the end of September 2017.
We meet on every 2nd and 4th Saturday of each month at 2:30 pm at Merit Park Hotel in Karaoglanoglu, just 10 minutes West of Kyrenia.
Our Club extends a warm welcome to men and women of all ages and all nationalities resident in Cyprus. Former Rotarians and Rotaractors and interested members of the community with some spare time and energy are all invited to contact us to find out more about joining our Club.
Our members enjoy fun and fellowship in social activities, as well as joining in the teamwork of varied projects and put their life skills to good use and help the Club make a difference locally and worldwide.
Some of our on-going projects are: Collect the caps for Wheelchairs, Tree Planting, Beach Clean-up Days, Nicosia Food Bank, Cyprus Friendship Programme and Cyprus DDG Project for Children's Cancer Diagnostic Unit.
For more information about our Club please contact our Club Secretary Munevver Cagin Bektas at rckyreniacosmopolitan@hotmail.com  Deputy Deren Firat by deren.firat@gmail.com
You can also get in touch with our President Gultac Ozsan by g.ozsan@yahoo.com
Check out our Facebook page https://www.facebook.com/RCKyreniaCosmopolitan/
Visiting Rotarians, Rotaractors and Friends of Rotary are always welcome!