Rotary Cyprus is celebrating the 116th Rotary International Birthday and the addition of the environment as the seventh area of focus by launching The Pollinator Project.
The Pollinator Project of ROTARY Cyprus (Climate Change and Biodiversity in Cyprus) has been initialized by the Rotary Club Nicosia Aspelia in close cooperation with the ROTARACT Clubs Nicosia Aspelia and University of Nicosia.
The project is run by an Environmental Task Force of ROTARY Cyprus involving the ROTARY Clubs: Famagusta, Kyrenia Cosmopolitan, Limassol, Nicosia, Nicosia Aspelia, Nicosia Ledra, Nicosia Lefkothea, Paphos Aphrodite, Salamis, Sarayionou, Kyrenia
and the ROTARACT Clubs: Nicosia, Nicosia Aspelia, University of Nicosia, Nicosia Lefkothea
The project has been entered as a Rotary Showcase Project at Rotary International
https://map.rotary.org/en/project/Pages
How to get involved?
As an individual: Start your own pollinator garden plot
As a ROTARY club: support the creation and maintenance of municipal or school pollinator plots
As a school: make pollinator gardens part of your biology curriculum
As a municipality: initiate, set up, and sustain community pollinator gardens  or pollinator parks
What is pollination and why is it important?
Pollination is an essential part of plant reproduction and is required for the continuation of a species. Some plants are able to pollinate themselves. A large majority of plants (85%) require pollination by an animal. Pollinators provide pollination services to over 180 000 different plant species and more than 1 200 crops. One out of every three bites of food you eat is there because of pollinators. Pollinators support healthy ecosystems. Pollinators are threatened by climate change and pollution.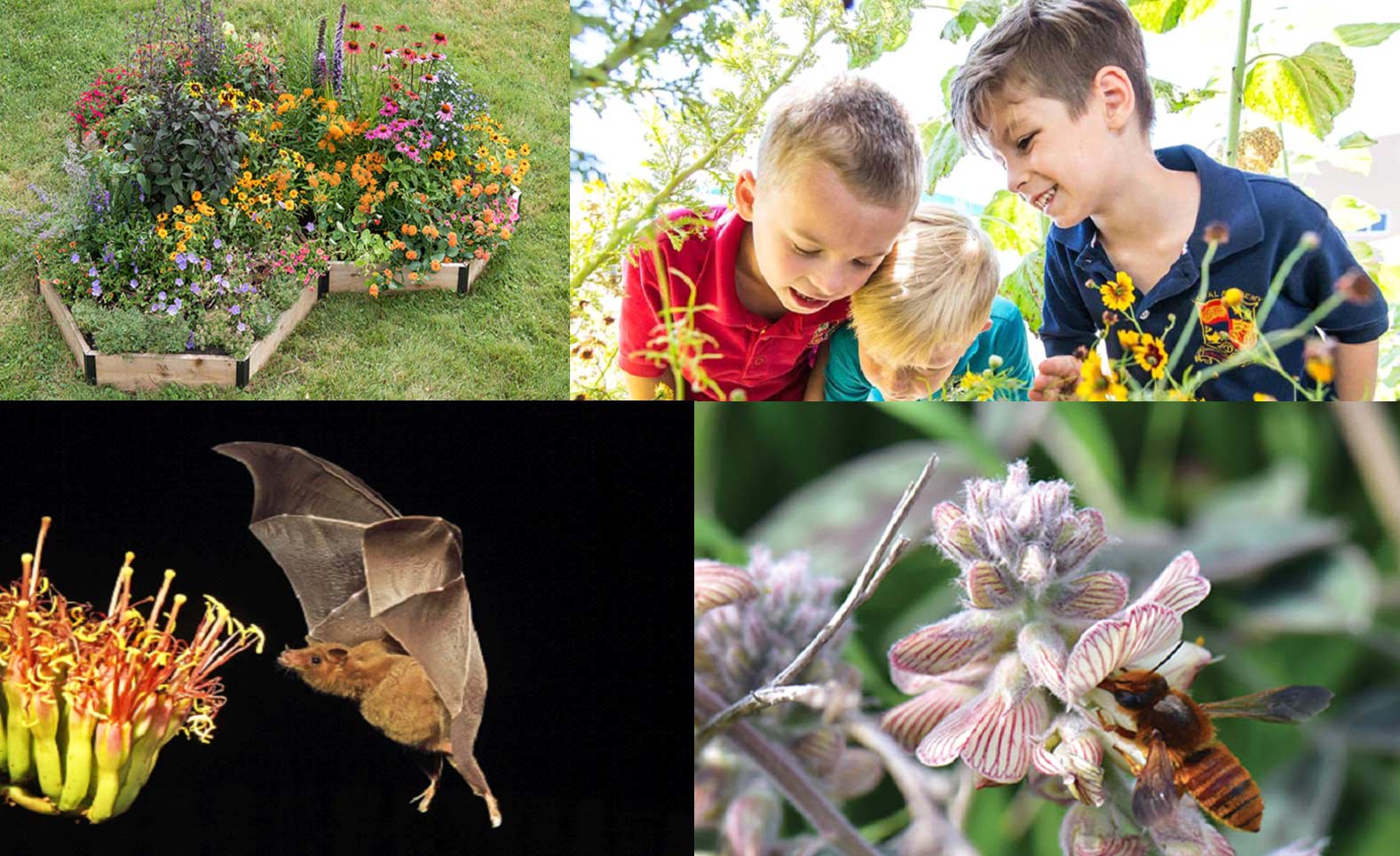 Picture credits:
Lower left: Photo by J. Hoffman; National Wildlife Photo Contest; http://www.ucanr.org/blogs/blogcore/postdetail.cfm?postnum=20089
Lower right: Photo by A. Varnava; Varnava et al., 2020
Upper right: Source: https://www.reviewjournal.com/homes/advertising-features/summerlin-supports-school-pollinator-gardens-1979809/
What are the main pollinator species?
Pollinator animal species include (main species in bold): Ants, Bats, Bees, Beetles, Birds, Butterflies, Flies
What are the threats to pollinators and how can we protect them?
Cyprus, similar to other parts of the Mediterranean is undergoing rapid and intense changes in climate. Rising temperatures and decreasing rainfall add to the desertification of the island. One of the consequences of desertification is a steady decline in the diversity of plant and animal species, including pollinators. In addition, the extensive use of agrochemicals and pollution from various sources reduce the habitats of pollinator species. What to do? Raise awareness on the value of pollinator species. Protect and maintain pollinator habitats. Create pollinator gardens and parks.
In Cyprus, a number of wild bee species are particularly important for pollination. Some  11 species are only found on the island.
You can find more information about the Pollinator Project here in English, Greek and Turkish.
For more information, please contact
Manfred A. Lange, RC Nicosia Aspelia
Email: m.a.lange@cyi.ac.cy
Phone: +35799052416
DDG Caterina Kalavas, RC Nicosia Aspelia
Email: catherine@cytanet.com.cy
Phone: +35796605208