The Rotary Club of Nicosia-Lefkothea is Twinned with the following Rotary Clubs
Rotary Club of Nea Smyrni, Athens, District 2470 Hellas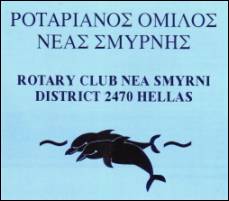 On 8 April 1989 the Twinning Ceremony took place in Nicosia, under the Presidencies of Andreas Pattichis (Nicosia-Lefkothea) and Petros Linardos (Nea Smyrni) and in Athens on 20 November 1989, under the Presidencies of Pangalos Zachariades (Nicosia-Lefkothea) and Stavros Firfilionis (Nea Smyrni).
Ties are close between the two clubs and there are visits on both sides.
Rotary Year 2005-2006
Visit by the RC. Nea Smyrni to Nicosia
37 persons in total, Rotarians and guests of our twinned Rotary Club "Nea Smyrni", visited our Club "Nicosia-Lefkothea" (24-27 March 2006) and we had a warm get together.
Rotary Year 2002-2003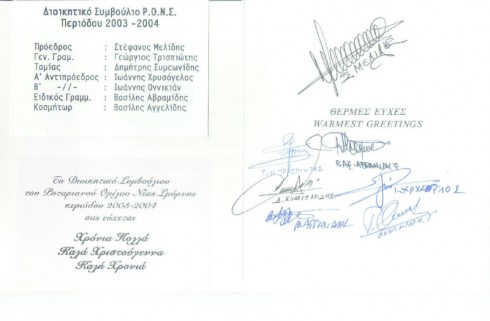 Dear Fellow Rotarians of Nicosia-Lefkothea,
See above the Warmest Greetings of the Members of the Board of our twinned Club of Nea Smyrni, rotary year 2003-2004.
Dear Members of the Board of 2003-2004 and all other Members of Nea Smyrni,
Thank you very much for your card. It was copied and sent by e-mail to the members of our Club.
The President Nicos Philippou, the Incoming President Mikis Costa (2003-2004) and all the Members of our Club send our best wishes to you and all the members of your Club for a happy and prosperous New Year 2003.
Christodoulos Achilleoudis,
Immediate Past President and Internet Communication Officer of Nicosia-Lefkothea Rotary Club.
1 January 2003
Rotary Year 2001-2002
Visit of the R.C. Nicosia-Lefkothea to Athens – 6-9 June 2002
Ten members of the R.C.Nicosia-Lefkothea with their wives (20 in total) visited the twinned Club of Nea Smyrni, Athens (6-9 June 2002) and they had a very warm welcome.
During the Common Dinner held on Friday 7 June at Sounio, in a hotel near the Temple of Poseidon, both Presidents, Christodoulos Achilleoudis of Nicosia-Lefkothea and Pantelis Valasakis of Nea Smyrni, expressed their satisfaction because this common Meeting took place during their Presidency. It was unanimously decided by all the present members that the visit of the one Club to the other twinned Club will take place regularly every 2 years. According to this, the R.C. of Nea Smyrni will visit Cyprus the latest during the rotary year 2003-2004.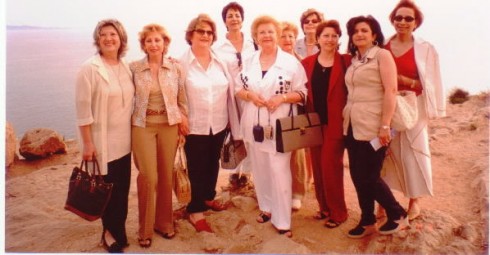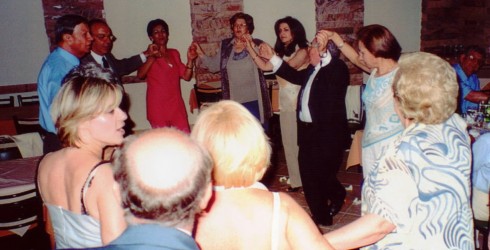 Rotary Club of Sahel Metn, Lebanon, District 2450
The idea of twinning started between our Director Popi Kanari and Secretary Alex Dantziguian of Lebanon. The idea began to take shape after the visit of our President Costas Georgallis to Lebanon, who attended a regular meeting of Sahel Metn.
The Official Ceremony of the twinning was conducted during the Gala Dinner of the 63rd Conference of 2450 District in St Raphael Hotel in Limassol on Thursday 29th April 1999. Both Presidents Boudi Abi Karam of RC of Sahel Metn and Costas Georgallis of RC of Nicosia – Lefkothea pledged to promote understanding and maintain friendship between the two countries, enhance fellowship and undertake joint projects beneficial to both. The protocol was signed by the two Presidents, the Directors of the International Service Popi Kanari and Elia Abi Karam, endorsed by DG Doros Jeropoulos and PPRI Paolo Costa.