FOUNDING OF THE CLUB
Four Past Presidents and three rotarians, all members of the "Nicosia Rotary Club",took the initiative in  creating  the Rotary Club of Nicosia-Lefkothea :
PP Michalakis Triantafyllides, PP Joseph Hadjijoseph, PP Andreas Pattichis, PP Felix Cirilli de Nores, Rot. Pangalos Zachariades, Rot. Demetris Kalavanas and Rot. Loukis Pattihis.
Initial discussions begun in May 1987, with the enthusiastic support and assistance of the Past District Governor of Rotary Area 2450 Phoebus Zachariades.The following rotarians acted as the Extension Committee for the formation of the Club: F. Cirilli, M. Triantafyllides, A. Pattichis, J. Hadjijoseph, P. Zachariades, together with the President of the Nicosia Rotary Club Renos Clerides. Special Representative was the Past District Governor Phoebus Zachariades.
First President of the Club was Michael Triantafyllides and first Secretary Pangalos Zachariades.
The extension committee selected new members and so the Founder Members became 31 in total.  Approval was asked on 19 October 1987 and was given by the Rotary International on 15 December 1987. The Charter  was presented on 31 January 1988  by the then District  Governor Dr Gamil Waly to the first President of the Club M. Triantafyllides, in a special Ceremony at the Hilton Hotel, Nicosia.
PDG Phoebus Zachariades was declared Honorary Member of the Club.
The Rotary Club of Nicosia-Lefkothea was founded as the third club in Nicosia, sharing the territory with two other clubs: The Rotary Club of Nicosia (founded in 1938) and the Rotary Club of Nicosia-Ledra (founded in 1982).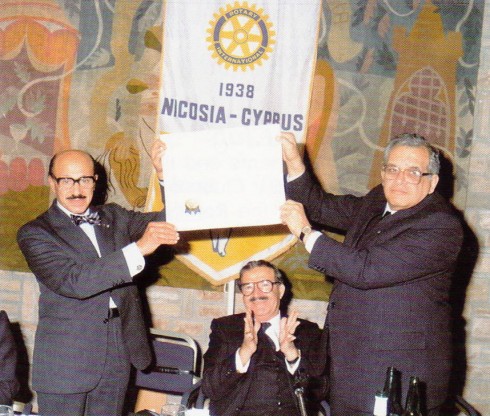 From the Charter Night at the Hilton Hotel on 31 January 1988
The 31 Founder Members are the following:
| | | |
| --- | --- | --- |
| Older Members | | Classification |
| Cirilli de Nores Felix | (1954) | Formerly Motion Pictures-Theatre |
| Triantafyllides Michalakis | (1957) | Formerly Judiciary, Supreme Court |
| Hadjijoseph Joseph | (1967) | Formerly Broadcasting |
| Pattichis Andreas | (1969) | Formerly Novelties Distribution |
| Zachariades Pangalos | (1974) | Formerly Gov/nt Fire Extinguishing Service |
| Kalavanas Demetris | (1978) | Foodstuffs Importing & Distribution |
| Kittis Dinos | (1984) | Marketing Consultancy |
| Pattihis Loukis | (1986) | Paper Products Manufacture |
| | | |
| New Members | 1987 | Classification |
| Achilleoudis Christodoulos  |   | Government Education-Music |
| Adamou Lambros |   | Banking-Credit |
| Argyrou Andreas |   | Security Services |
| Christophides George N. |   | International Trade |
| Costa Mikis |   | Accountancy-Taxation Consultancy |
| Georgallis Costas |   | Industry-Bedding Manufacture |
| Gregoriou Andreas |   | Accountancy-Audit |
| Hadjijoseph Joseph Ch. |   | Hotels-Catering |
| Ioannou Nicos |   | Medicine-Orthopaedics |
| Jacovides George |   | Broadcasting Administration |
| Kypri Yiannis |   | Banking-Commercial |
| Kyriakides Georgios * |   | Medicine-Surgery Transplant |
| Makrosellis Mattheos |   | Luggage Manufucture |
| Michaelides Glafkos |   | Medicine-Cardiology |
| Phanopoulos Phanos |   | Government Education Secondary |
| Riris Christos |   | Medicine-Gynaecology |
| Sophocleous Andreas |   | Insurance-Life |
| Taoushanis Takis |   | Financial Services |
| Vatiliotis Philippos |   | Telecommunications Services |
| Zachariades Aris |   | Hotels-Managing |
| Zachariades Petros |   | Ship Surveying Services |
| Zembylas Mikis |   | Architecture |
| Zevlaris Solon |   | Insurance-Life |
* Left the Club late in 1987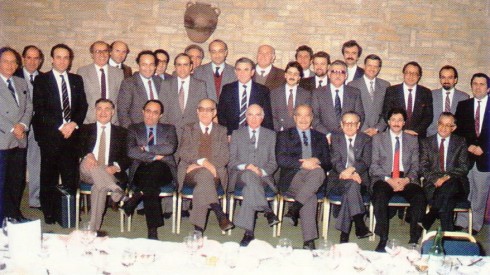 Members of the Rotary Club of Nicosia-Lefkothea, 14 November 1988